Father:

Christian Carl August SCHREIB

(*

20 May 1828

)
Mother:

Louise Johanna ABEL

(*

2 Jun 1830

+

1 Dec 1871

)
Karl Johann Friedrich Ludwig SCHREIB

(*

26 Mar 1869

+

16 Aug 1955

)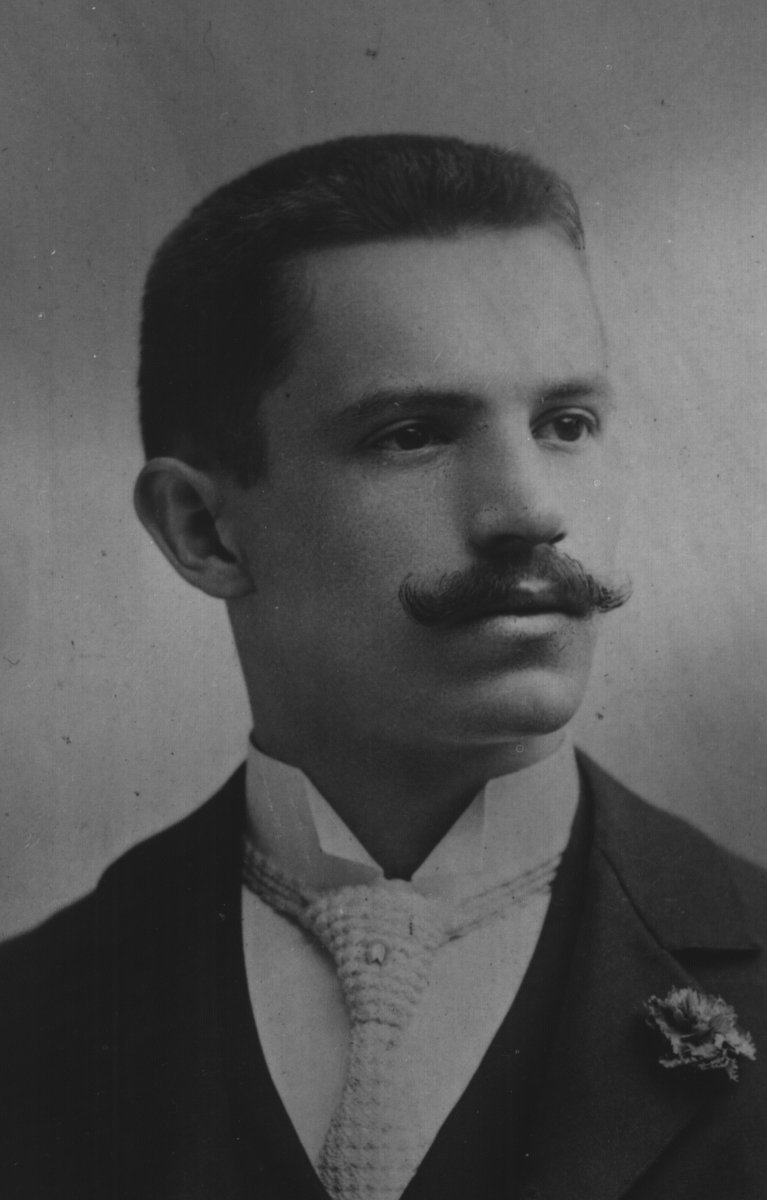 Karl Schreib
CHRISTENING: 11 Apr 1869, Wilsnack, Prignitz, Prussia, Germany [84]
DEATH: 16 Aug 1955, Richmond, Johannesburg, South Africa [85]
BURIAL: 1955, Brixton Cemetery, Johannesburg, South Africa
EVENT: Occupation: Machine shop foreman, Farrier [87]
EVENT: Military: 3 Oct 1889, Started service [88]
EVENT: Military: 23 Nov 1891, Promoted to Lance Corporal (Gefreiter) [89]
EVENT: Military: 10 Sep 1892, Discharged at Trier, Germany Discharge number Roll: 32 for 1889 [90]
EVENT: Military: 21 Sep 1892, Reported at Perleberg. Two years leave given until 1894 [91]
EVENT: Military: 19 Oct 1892, Under control of Army Corps, Perleberg [92]
EVENT: Military: 21 Sep 1893, Leave granted for 2 years to 25 January 1895 [93]
EVENT: Military: 24 Dec 1895, Leave granted until 25 January 1897 [94]
EVENT: Military: 1 Apr 1897, Transferred to Landwehr [95]
EVENT: Painter
Occupation: 21 Jun 1897, Hamburg, Germany [96]
EVENT: Military: 10 Jan 1899, Granted leave outside of Europe until 6 February 1901 [97]
EVENT: Military: 24 Jan 1901, Reported at Wittenberge [98]
EVENT: Military: 3 Aug 1901, Reported at Wittenberge [99]
EVENT: Military: 17 Oct 1901, Reported at Perleberg [100]
EVENT: Machinist
Occupation: 29 Oct 1901, Hamburg, Germany [101]
EVENT: Builder
Occupation: 7 Nov 1901, New York, NY, USA [102]
EVENT: Machinist
Occupation: 27 Sep 1902, NJ, USA
EVENT: Military: 21 Jan 1904, Leave outside Europe granted until 1905 [103]
EVENT: Military: 17 Oct 1905, Leave extended at Perleberg until 1907 [104]
EVENT: Naturalization: 15 Nov 1905, Naturalised as South African (i.e. British) [105]
EVENT: Military: 22 Aug 1907, Leave extended at Perleberg until 31 March 1908 [106]
Wife 1
:
Anna Margaretha STANGE
MARRIAGE: 31 Jul 1897, Feldhouse's House, Jeppestown, Johannesburg, South Africa
Children
+

Martha Louise Josephine SCHREIB

(*

6 Jun 1899

+

20 Jun 1984

)
Please email corrections or additions to Dale Schultz at
Personal details of people who may be living are NOT placed on the web
---

                                                                _Joachim Ernst SCHREIB _________________+
                                  _Joachim Conrad SCHREIB _____|
                                 |                             |_Anna Catharine BESMANN ________________
 _Christian Carl August SCHREIB _|
|                                |                              _Christian WICHERT _____________________
|                                |_Dorothea Elisabeth WICHERT _|
|                                                              |________________________________________
|
|--Karl Johann Friedrich Ludwig SCHREIB 
|
|                                                               _Christian ABEL ________________________+
|                                 _Johann Joachim David ABEL __|
|                                |                             |_Maria Elizabeth HITSCHER ______________+
|_Louise Johanna ABEL ___________|
                                 |                              _Johann Joachim WICHERT ________________+
                                 |_Dorothea Sophia WICHERT ____|
                                                               |_Hanna Maria Dorothea Friderica SCHULZ _+

---
Complete list of names in tree
URL changed? Try Dale or Debbie's tree home site.
[86]
[86] Born at 15:30

Godparents
1) Gragert (Zimmermann)
2) Friedrich Brau (Bahnwärter)
3) Luis Ne??e (Drechsler) [could be Nesse or Neame or Nerze]
4) Dorothee Gennburg (Jungfrau)
5) Marie Krafack (Jungfrau)

Baptised by father Gebauer 11 April 1869


Military service:

Started service: 3 October 1889
Company: 2nd Rheinischen Husarn
Squadron: Regiment No. 9
Battery: 1 Squadron



23 November 1891 promoted to Lance Corporal (Gefreiter)

Training: Carbine 88 1st class shot.
Purple Cachet.


Name is painted on pipe in possession of Dale Schultz his great grandson.

Learnt Farrier trade whilst in the army.

10 September 1892 Discharged at Trier, Germany Discharge number Roll: 32 for 1889
Reserve: Purple Cachet of Royal Prussian District Commando 2, Altona.
Reported at Perleberg 21 September 1892. Two years leave given until 1894
19 October 1892 under control of Army Corps, Perleberg

Moved to Lockstedt (Lokstedt) near Altona by Meinhart 12 Dec 1892

25 January 1893 & 29 January 1893

On February 27, 1893 on the ship Moravia which sailed from Cuxhaven to New York

0015. Wiese, Joh. M 20y German Prussia
0016. Schreib, Carl M 23y German Prussia

(Wiese is the surname of the spouses of two of his siblings!)

21 September 1893 leave granted for 2 years to 25 January 1895

Did Blacksmith apprenticeship in New York in 1890's where he met his wife.

24 December 1895 leave granted until 25 January 1897

On 27 June1896 he went from Hamburg, Germany via Southhampton to South Africa on the steamship Goth


Departure record from Hamburg:
Surname: Schreib
Given Name: Carl
Age in Years: 27
Attendant Family Members: none
Place of Residence: Hamburg
(Federal) State of Origin:
Profession: Maler
Passanger Number: 07.0007
Passage Number: B1896.0181
Accomodation: 3. Klasse
Date of Departure: 21.06.1896
Destination of Ship: Southampton (Südafrika via Southampton)
Name of Ship: Goth
Ship Type: Dampfschiff
Agent: John Suhr & J. F. M. Classen
Country Flag of Ship: Großbritannien
Name of Captain: Bremner

6 February 1897 leave granted until 6 February 1899

1 April 1897 transferred to Landwehr


His wife came from USA to South Africa in July 1897.

31 July 1897 Married

10 January 1899 granted leave outside of Europe until 6 February 1901

ca February 1900, 8 months after daughter was born, his wife and daughter moved to Wilsnack, Germany and Karl Schreib followed when the Modderfontein dynamite factory closed because of the Boer War (1899-1902).

1900
After 1 week in Wilsnack they went to New York where they ran a boarding house.

24 January 1901 Reported at Wittenberge
3 August 1901 Reported at Wittenberge

17 October 1901 at Perleberg

Departure information fromHamburg:
Surname: Schreib
Given Name: Carl
Age in Years: 32
Attendant Family Members: yes
Nationality: Brandenburg
Place of Residence: Wittenberge
Profession: Maschinenbauer
Passanger Number: 01.0079
Passage Number: A1901.0383
Accomodation: Zwischendeck
Date of Departure: 29.10.1901
Destination of Ship: Southampton; Cherbourg; New York
Name of Ship: Columbia
Ship Type: Dampfschiff
Shipping Company: Hamburg-Amerika Linie (Hamburg-Amerikanische Packetfahrt-Actien-Gesellschaft)
Agent: Hamburg-Amerika Linie (Hamburg-Amerikanische Packetfahrt-Actien-Gesellschaft)
Country Flag of Ship: Deutschland

On November 7, 1901 on the Manifest of the ship Columbia sailing from Hamburg to New York
0016 Schreib, Carl , 32 years
0017 Schreib, Margarethe, 32 years
0018 Schreib, Martha (aged 2 years 6 months)
The purpose of their visit was listed to visit 'brother in law Paul Schwartz' at 259 E 10th St., NY. Karl had $1600 with him. Previous time spent in the USA was 3 years for Karl and 5 years for Margarethe. Karl's occupation is illegible. Last residence is given as Wittenberge.

When the Boer war was over (1902) and the dynamite factory reopened, Karl returned to South Africa.

US passport application made in Hudson County, NJ dated 27 September 1902 claims that he arrived in the USA 5 January 1886 on the ship Moravia and had been a resident for 16 years and became a naturalized citizen of the United states on 27 Septemeber 1902 in the courts at Hudson, NJ. The passport application was to travel to the Transvaal with the intention of returning in 5 years. Address is geven as:
209 Washington St, Jersey City, NJ
Occupation: Machinist
He was 5' 7" with dark brown eyes and dark brown hair aged 33
Naturalized citizen number is 62121
Passport was issued on 29 September 1902

In 1903 or 1904 his wife and daughter went from New York to back to Wilsnack where his wife underwent an operation. After their daughter had attended some school in Wilsnack (school certificate) mother and daughter returned to Modderfontein, South Africa

21 January 1904 leave outside Europe granted until 1905
17 October 1905 leave extended at Perleberg until 1907

15 November 1905 Naturalised as South African (i.e. British). Had by this time been in the Tranvaal for 7 years.
RSA archives:
DEPOT TAB
SOURCE CS
TYPE LEER
VOLUME_NO 628
SYSTEM 01
REFERENCE 5665
PART 1
DESCRIPTION NATURALISATION. C SCHREIB.
STARTING 1905
ENDING 1905

RSA archives;
DEPOT TAB
SOURCE ZTPD
TYPE LEER
VOLUME_NO 8/806
SYSTEM 01
REFERENCE 687/1906
PART 1
DESCRIPTION OPPOSED APPLICATION. D HENRY VERSUS C SCHREIB.
STARTING 19060000
ENDING 19060000

22 August 1907 leave extended at Perleberg until 31 March 1908

1908 RSA archives entry;
DEPOT TAB
SOURCE ZTPD
TYPE LEER
VOLUME_NO 8/850
SYSTEM 01
REFERENCE 50/1908
PART 1
DESCRIPTION EX PARTE APPLICATION. C SCHREIB.
STARTING 19080000
ENDING 1908

RSA archives:
DEPOT SAB
SOURCE CES
TYPE LEER
VOLUME_NO 179
SYSTEM 01
REFERENCE ES70/4222/14
PART 1
DESCRIPTION SCHREIB, C DYNAMITE FACTORY MODDERFONTEIN, TRANSVAAL.
STARTING 1917
ENDING 1917

RSA archives;
DEPOT SAB
SOURCE GG
TYPE LEER
VOLUME_NO 1907
SYSTEM 01
REFERENCE 61/802
PART 1
DESCRIPTION PASSPORTS: INSISTENCE OF CERTAIN ARGENTINE CONSULAR OFFICERS UPON
CERTIFICATES OF CHARACTER BY ALL BRITISH TRAVELLERS DESIRING TO
PROCEED TO THE ARGENTINE: CASE IN UNION OF SOUTH AFRICA IN RESPECT
OF MESSRS. C SCHREIB AND CA WILLMERS: ATTITUDE OF UNION GOVERNMENT
WITH REGARD TO.
STARTING 19260000
ENDING 19260000
REMARKS PREVIOUS PAPERS 61/790. SUBSEQUENT PAPERS 61/804.



Dec. 1930 Trip on steamship "Usambara" from Durban to Cape Town.

Planned to visit his brother and sister in NJ, USA sometime between 1932 and 1935 but fell ill in Germany and did not make it out to the USA - recalled by Marian Gabel who was expecting her mother's uncle to arrive with diamonds in his pockets !

Karl Schreib visited Bad Wilsnack in 1936 for the Golden wedding of Hulda Schreib and Juergen Wiese. It was secretly arranged with Hulda Wiese as a surprise visit.
Made first 'phone call to South Africa from Berlin Games in 1936. (Source Letter from Luise Partz January 2000 and repeated in 2004)

Also reported by Ernst Schultz to have visited Japan in 1936. Dale Schultz has a set of postcards he bought there showing the Beppu hot springs, a ship called Murasaki Maru, The Yamato Hotel - Kobe, Nunobiki Waterfall, Meriken hatoba - Kobe, Mikassayama hill - Nara

There is a record of him sailing from Durban to Southampton arriving on 23 April 1936

Worked in engine room at Modderfontein Dynamite factory. Did some farming near Modderfontein. Then 8th St. Vrededorp. Painter. Magnetopath.

RSA archive:
DEPOT TAB
SOURCE MHG
TYPE LEER
VOLUME_NO 0
SYSTEM 01
REFERENCE 5352/55
PART 1
DESCRIPTION SCHREIB, CARL FRIEDRICH LUDWIG. ALSO KNOWN AS CARL SCHREIB.
STARTING 19550000
ENDING 19550000
REMARKS SURVIVING SPOUSE MARGARETHA SCHREIB (BORN STANGE).


Ashes are at Brixton cemetery, Johannesburg, South Africa
[96] Maler
[101] Occupation on departure record is Maschinenbauer
[102] Ellis Island entry says "builder" but is overwritten with something else also, perhaps Machine builder.
[80] [S185] Kirchenbuch, Evangelishe Pfarreampt, Bad Wilsnack
[81] [S551] Military pass for Karl Schreib
[82] [S185] Kirchenbuch, Evangelishe Pfarreampt, Bad Wilsnack
[83] [S15] Estate of Karl Schreib
[84] [S185] Kirchenbuch, Evangelishe Pfarreampt, Bad Wilsnack
[85] [S15] Estate of Karl Schreib
[87] [S551] Military pass for Karl Schreib
[88] [S551] Military pass for Karl Schreib
[89] [S551] Military pass for Karl Schreib
[90] [S551] Military pass for Karl Schreib
[91] [S551] Military pass for Karl Schreib
[92] [S551] Military pass for Karl Schreib
[93] [S551] Military pass for Karl Schreib
[94] [S551] Military pass for Karl Schreib
[95] [S551] Military pass for Karl Schreib
[97] [S551] Military pass for Karl Schreib
[98] [S551] Military pass for Karl Schreib
[99] [S551] Military pass for Karl Schreib
[100] [S551] Military pass for Karl Schreib
[103] [S551] Military pass for Karl Schreib
[104] [S551] Military pass for Karl Schreib
[105] [S106] Naturalisation certificate